Hina's Story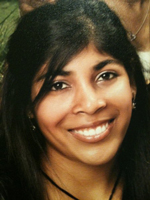 It's every parent's dream to give birth to a healthy baby. When our daughter, Hina, was born on December 11, 1990, we were ecstatic to find that she was healthy. Things took a turn for the worst when we received a letter from the hospital informing us that Hina had been diagnosed with a blood disorder known as "hemoglobinopathy." Her blood was tested by electrophoresis, and she was diagnosed with Sickle Beta Thalassemia. We were immediately convinced that the diagnosis was wrong because she showed no immediate signs of the symptoms. However, when Hina experienced hand-foot syndrome on her first birthday, our deepest fears were confirmed. To watch Hina cry relentlessly from the pain, and know that all we could do at the time was give her Motrin, made us feel so helpless. Soon, she began receiving blood transfusions every two months to keep her hemoglobin high. We were transferred to a hematologist at (Children's Hospital Los Angeles) CHLA because of the possibility of an iron overload from the frequent transfusions. At CHLA, the doctors recommended against giving any more transfusions unless Hina's hemoglobin dropped below 7g/dl or if she had trouble breathing.
Hina would experience severe pain in her hips, legs, and arms every three to four months and be hospitalized or provided with home health care. She was not able to walk, move or eat during these crises, and would run fevers as high as 105 degrees. We lived in apprehension because her crises would occur unexpectedly. Our lives revolved around taking care of Hina, making sure she took her medications, drank at least 10 glasses of water per day, didn't overexert herself, stayed warm, but not too hot, and kept her away from sick children.
In 2001, what started out as a cold raged into a severe pain crises and acute chest syndrome. Hina was transported via helicopter to Children's Hospital Central California for treatment. As my husband and I drove to the hospital in Madera and arrived at 2 AM, we were terrified we might lose her. Her oxygen capacity was at 38% and she was placed on the ventilator (mechanical breathing machine). It took her two months to completely recover before she could return back to school. Three months later, she was readmitted to the hospital with a severe pain crisis. Her hematologist started her on Hydroxyurea, which helped most of her pain crises for about four years. However, even on Hydroxyurea, she still experienced pain in her abdomen and when she entered high school, she had her gallbladder removed due to gallstones. Despite the surgery, the abdominal pain continued, so she went to see a GI specialist. Soon after, she was treated for H-pylori and placed on Prevacid. The treatment didn't help and Hina's pain episodes continued throughout high school. The stress of high school and extracurricular activities made her pain episodes more frequent and just plain unbearable.
As a parent it was difficult to watch our child suffer as much as she did. This led my husband to search for a bone marrow transplant match in hopes of one day curing her disease. We sought the opinions of two expert transplant hospitals: Lucille Packard Hospital of Stanford and Children's Hospital of Los Angeles. None of our family members, including her sister were a match. To our great pleasure, a closely matched unrelated donor was found and Hina received her bone marrow transplant on May 31, 2008 at CHLA. She responded well in the beginning, but as months grew into a year, she was bogged down with Adenovirus infection, C-difficile colitis, and graft versus host disease (GVHD) of the skin, colon and liver. After 24 long months of isolation, on May 5, 2010, Hina passed away due to liver failure.
Throughout her life, no one would have guessed Hina suffered from Sickle Cell Anemia just by her outward appearance. Although she was a child with hemoglobin of 7 g/dl, Hina was always active and creative. Hina didn't like watching TV or playing videogames as other children did. She loved to go bike riding with her dad and play sports with friends. Her wild imagination was unceasingly portrayed in her crafts, plays, and games created for the family and friends. Baking, traveling, decorating for holidays, and learning about new things were what she enjoyed doing the most. Most impressively, throughout her pain and suffering , education was a top priority for her; she studied hard and tried to get ahead with her homework so that she would not fall behind during her multiple cycles of pain crises. Even during her months in the isolation, she continued her learning, excelled in her AP courses, and was accepted into the University of the Pacific. She never lost sight of her future goal to one day become a pharmacist.
Hina lived in an isolation room throughout the transplant process for months at a time and wasn't allowed to go outside. She never once complained about not being able to soak up the sunlight, feel the breeze, or cold ocean water.
Hina was incredibly selfless. A few months before receiving her transplant, she worked to create a Sickle Cell Awareness fair in her community to provide support to those suffering from the disease. She hoped to let others know that they are not alone and that together, they could pull through. Despite her pain, she was able to put others first and the continuation of the Sickle Cell Awareness Fair in her memory is the least we can do. More importantly, I know that she would want it to succeed to provide others with the help and support that they need.
Hina's smile never left her face throughout this entire process. She was brave, strong, and determined. She is an inspiration to all those who knew her, and made us all realize how much meaning the little things in life hold. There are no words to express her loss; the only comfort we have now is knowing that she is protected in a better place finally at peace from the pain.